Domino's offers 50% off pizzas for March Madness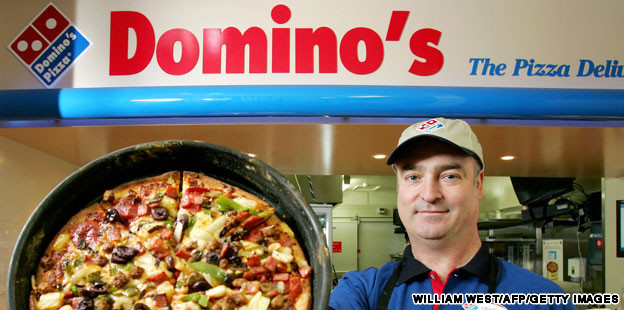 ( NASDAQ : DPZ)
 Several companies are offering crazy promotions to try and attract hoops fans.
Domino's (DPZ) has a 50% off deal on pizzas that are ordered through its online and mobile platforms. That lasts through Sunday ... when the 68 teams selected for the tournament will be whittled down to a Sweet 16.
Pizza Hut, which is owned by KFC and Taco Bell parent Yum! Brands (YUM), is going the nostalgia route.
Related: Domino's stock delivers
It's selling its signature stuffed crust pizza, which is now 20 years old, for an "anniversary price" of just $9.99. It even brought back former San Antonio Spurs legend David "The Admiral Robinson" to appear in an ad again like he did in 1995.
Pizza Hut is also running a contest that will give fans a chance to win a trip to the Final Four in Indianapolis and take a half-court shot backwards (since that's apparently how you're supposed to eat a stuffed crust pizza) for a chance at winning $1 million.
Not to be outdone, Papa John's (PZZA) is bringing back its "fan favorite" (I'll take their word for it) Philly Cheesesteak Pizza. The company said in a release that it's "just in time for the college basketball championship kick-off."
I'm not sure what a Philly Cheesesteak has to do with basketball, especially since the top-seeded Villanova Wildcats were the only Philly school to make it to the Big Dance. (Poor Temple.) Also, shouldn't it be a tip-off instead of a kick-off?