Zillow - I'll show you the Yelp Style Reviews - In My Opinion SELL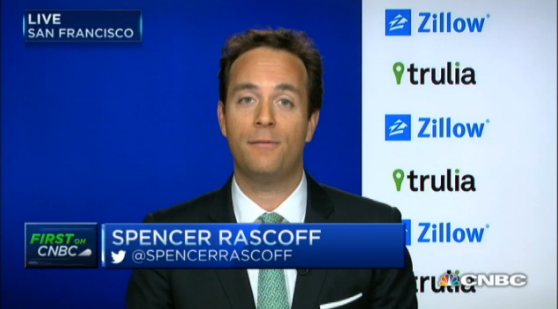 (NASDAQ: Z) Zillow, a lead generation company for real estate agents & mortgage brokers … nothing more?
Be cautious when investing in Zillow because they spend a ton of money on consumer advertising because Wall Street has indulged it in the hype-driven story that it was going to "reshape" Real Estate (BAHAHA - evil laugh). A problem with Zillow: difficulty with the Trulia integration. The 'Day One' plan was a failure. Just imagine laying off 300 Trulia Sales staff and then wonder why the User numbers fall off the edge of a cliff, based on the Barclays Analyst Report this week.In addition Zillow had ZERO strategy for the Market Leader business Trulia acquired for $350M only 18 months earlier, and Spencer Rascoff said in April on the 'Emergency Analysts Call' they were still deciding what to do with ML. Considering there was a $250M Goodwill Balance transferred by Trulia in the acquisition Accounts filed with SEC, there must be a significant risk of a substantial Goodwill write off if Market Leader is disposed at a discounted price. To me that is problem #1 for Zillow. We will see what P&L charge hit Q2 Earnings in a few days time regarding the Active Rain disposal which will be indicative of the ML situation but on a much smaller scale.
Here's an interesting review from BaileySix that will make you quiver - "My wife is a realtor and uses Zillow, pays $500 a month and signed a 6 month contract. She has an excellent profile and is great with people. Problem is ....the $500 a month has generated zero real opportunities. Zero....not an exaggeration. she calls the minute she gets a lead and the story is the always the same, don't qualify, already working with a realtor, just looking.....terrible leads. My wife worked at another firm and she got Fannie Mae leads she had the highest capture rate in the office, not an issue of her ability. So....Zillow can screw people once but that's it. I can't see how their revenue increases as word gets out it's not a good lead generation platform. 18 months ago she was told she would never get our zip code, then....4 months ago they started calling her daily to say "a real opportunity" came up and she could get our zip code. I think 18 months ago they were telling the truth, but....as more and more realtors figure out it's crap and don't renew, the "opportunity" comes up. Time to put my money where my mouth is and buy some put options."
And one more review from Rambler1 = "I hate using Zillow. It regurgitates the same listings over & over even after I've deleted them. New home listings are the worst. It's a waste of time. I only use realtor.com or the direct MLS listings."
YIKES, get out while you can...